When I make stuff, I'm happy. When I don't make stuff, I'm not as happy. This theme keeps getting reinforced, year after year.
I get energy from creating something and putting it out into the world. Having people connect with something you've made is a great reward.
Here are some things I shipped in 2015:
All of these were side-projects. I was consulting full-time and had to fit projects into evenings, weekends, and vacation days. The longest project to complete was Marketing for Developers. Projects like Tiny Marketing Wins took a day to complete.
2016 will be interesting because I've quit consulting full-time. So my focus will go from "side-projects" to "primary projects."
What were my biggest hits of 2015?
My friend Hiten Shah says: "Before you make plans, take a look at what's already working." Looking at what worked for you in 2015 is a great way to think about what you should do in the next 12 months.
Top blog posts
My blog was viewed about 130,000 times in 2015 (that's down from 300,000 in 2014). My top posts of the year were:
Don't follow your heroes (January 2015) - 5,870 views
Keep making things (June 2015) - 4,028 views
You need help (March 2015) -3,418 views
Why was there a reduction in traffic? I can think of a number of reasons: I was focused on writing my book, I was writing a lot for consulting clients, and I wasn't as focused on promoting on sites like Hacker News.
Here's my posting patterns in 2015 vs 2014: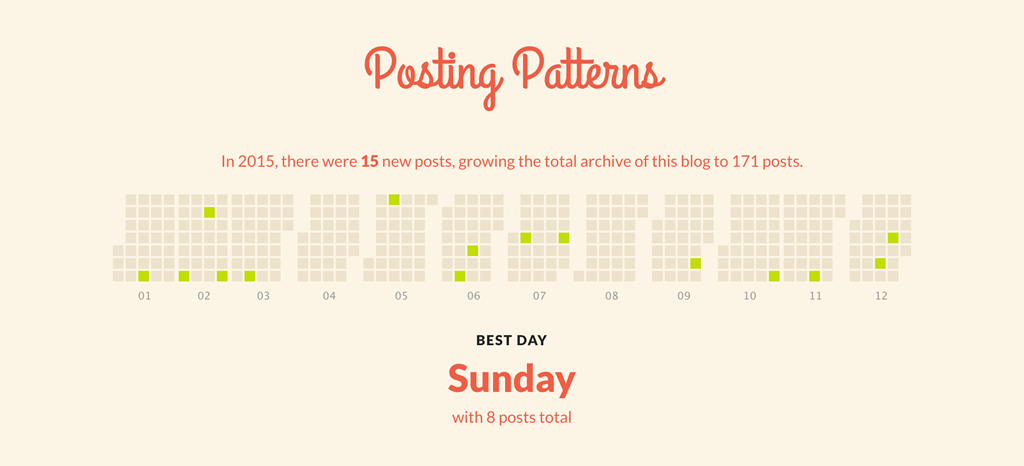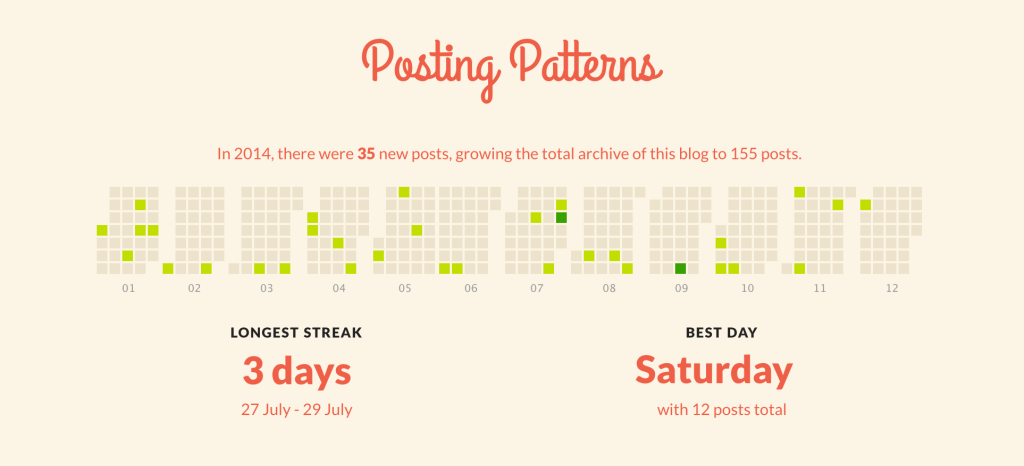 My top traffic came from these countries:
USA - 52,189 (40% of traffic)
Canada - 13,813 (11% of traffic)
UK - 9,386 (7% of traffic)
Germany - 4,850 (4% of traffic)
Australia - 3,329 (3% of traffic)
I published 4 pieces on Medium this year. These are usually things I've cross-posted (or re-written) from my regular blog. Here they are:
How to get more customers - 3,595 views
Start small - 2,910 views
Keep making stuff - 1,891 views (in 2 days)
#### Top side-projects
Here are my top 3 products, ordered by revenue:
In 2014 I made $40k in side-project revenue. In 2013 I'd made $20k. In 2012 I'd made $10k.
In 2015 I was hoping to double it once more and get to $80k. In total, I made around $66k. That's a 65% increase, but it's not quite where I wanted to be. If I'm going to replace consulting with product revenue in 2016, I need to be making over $10k / month.
A few notes:
How did I increase revenue? Marketing for Developers. This book & course is my "biggest" product to date. It accounted for about 55% of my product revenue.
I was really hoping Marty and I would be able to get Network Effects properly launched. We're close, and we're hoping to see some SaaS revenue in 2016.
The exchange rate right now is awesome if you're earning US dollars and converting them to Canadian. Move to Canada!
Here's my revenue breakdown by country:
USA - 39% (the majority coming from California)
Canada - 8%
UK - 9%
Germany - 3%
Australia - 3%
Two observations: first, my site's traffic % correlate strongly with revenue %. Second, all my startup clients have a very similar geographic revenue breakdown. The USA is almost always 30-50% of revenue, followed by Canada, UK, Germany, and Australia.
Newsletter list
The number of people subscribed to my email list grew 79% this year (from 5076 to 9085).
A lot of that growth came from the Tiny Marketing Wins email course. It was featured on Product Hunt, and ended up with over 2,000 subscribers in 48 hours. I've been procrastinating on doing an email course for years; I'm glad I finally did it.
The rest of the growth came from blog posts, my podcast, the maker challenge, and people signing up to receive sample chapters from my books.
Other significant events
Consulting
I won't share exact numbers, but I had a very profitable year of doing consulting for startups (focused on marketing and product).
In November I made a big decision. I decided to quit consulting full-time. The idea? To focus exclusively on building my own stuff. This is the first time I've been able to do this since I was in college. It's very exciting (but also scary). I'm not opposed to doing some consulting in 2016, but I'd really like to give my own stuff a good go.
The scary thing? Replacing all that revenue. I'm in a similar boat to Brian Casel here:
I'm in my thirties, married with a growing family (and currently the sole breadwinner), [and need to earn] close to $10,000/month.
Travel

Wowser. For a guy that doesn't like to travel, I travelled quite a bit this year.
Planning for the new year
Themes
I have a few themes I'm going to focus on this year:
Increase product revenue: I'd like to rely less on consulting, and more on products. To do that, I'd like to try to increase product revenue to $10k / month.
Make 100 things: for fun, I've created a 2016 Maker Challenge. The objective is to create little projects I can ship quickly. You can join here.
Family flexibility: since I've quit consulting I have more opportunities to do stuff with my family. I've volunteered a handful of times at my kids' school, and this is the first time I've ever been home the entire Christmas break. I'd like to keep doing this.
Focus on my strengths: see below.
Jeans vests: more jean vests.
What I'd like to launch
Here are the projects I'd like to launch:
MegaMaker: in January or February, I'll be launching the first season of my new podcast, MegaMaker. This is where I'll be chronicling my story (of making 100 things) and stories from community members who join the challenge.
Network Effects: as mentioned above, Marty and I are aiming to get at least 10-20 paying customers in 2016.
Marketing for Makers: there were a bunch of folks who asked for a non-technical version of Marketing for Devs. I did a small beta this year, but I'd like to do a proper launch in 2016.
Live event: I'd like to hold a product marketing event / workshop. Currently considering San Francisco, Edmonton and Portland.
Revenue plan for 2016
I'm aiming for a breakdown that looks like this:
50% of revenue will come from books, courses, workshops (specifically Marketing for Developers).
25% of revenue will come software products (web apps, plugins, themes).
25% of revenue will come from productized consulting (1 hour coaching calls for startups).
Lessons learned
Life is best when your actions reflect your temperament. This is why giving generic advice often fails: everyone has a different modus operandi. What works for me might not work for you.
The most poignant advice given to me this year came from Jason Zook:
[soundcloud url="https://api.soundcloud.com/tracks/237561283" params="color=ff5500&auto_play=false&hide_related=false&show_comments=true&show_user=true&show_reposts=false" width="100%" height="166" iframe="true" /]
This was a driving force behind my new side-project: MegaMaker (you can follow my progress here).
I was reviewing an old personality test I'd done (the Kolbe) and found this description:

If you know me, you know this rings very true.
This past year, I went for dinner with Ruben Gamez. One of the things he's done really well is focused on his "super power." He's really good at eliminating distractions. He mentioned that Peldi's strength is tenacious focus. Noah Kagen's is thinking non-stop about value.
The truth is, I'm different than many of my "product people" peers and heroes. Ruben encouraged me to focus on my super powers. Leverage what I'm really good at. That's something I'd like to focus on in 2016.
Final thoughts
Reading someone else's year in review could be helpful for you (as people have said here). I have a love / hate relationship with them. Sometimes they have helpful lessons, and serve as other inspiration. But other times they can drive comparisons, jealousy, and melancholy.
I hope there's something valuable for you in here. But don't take too much stock in my experience. My situation is unique. Yours is too!
Let's agree on one thing:
Life is better when you make stuff.
All the best to you in 2016!
Cheers,
Justin Jackson
@mijustin
PS: want to join me for the 2016 Maker Challenge?