[caption id="attachment_394" align="alignright" width="300" caption="Getting dropped off by Zappos shuttle"]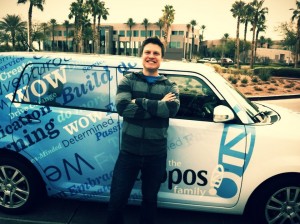 [/caption]
Today I toured the Zappos head office in Las Vegas. I had read Tony Hsieh's book, Delivering Happiness, and was eager to see the concepts he's talked about in-person.
Wow. I am blown away.
Zappos.com is the world's largest online shoe store, but they're probably better known for their amazing corporate culture. During my tour, I was able to experience that culture first-hand.
Highlights
Strong values
Zappos has some very strong corporate values. They're posted everywhere; I even found them in the bathroom. Unlike many corporate statements, the employees at Zappos are actually passionate about their core values. They can recite them off by heart. Even more important: I could see them living the values through their actions, and through the way they treated each other and their guests.
Positive people
I couldn't find a negative person at Zappos: from the friendly guy who picked me up in the shuttle, to my tour guide, to the developer I spoke to afterwards, everyone was positive and upbeat. You can tell that they genuine enjoy their work. How are they getting all their people to be so gosh-darned nice? Well, it's #7 on their values list: Build A Positive Team And Family Spirit.
Their office is a creative cornucopia
The office decorations at Zappos are insane! Every team is allowed to decorate their space the way they'd like. There is stuff everywhere: streamers hung from the ceiling, Christmas lights strewn over dividers, and handmade posters on the walls. I found it inspiring. Employees feel a freedom to express themselves, and actually enjoy being at the office.
It's not a gimmick
Before my visit to Zappos I wondered if their company culture was just a gimmick used to attract new employees. But I've seen it in action: have a strong set of corporate values, and a strong goal (delivering happiness to customers) really works.
Photos
Photos from my tour of the Zappos HQ in Las Vegas, Nevada!