[caption id="attachment_198" align="alignright" width="225" caption="Happy Pop bottle, circa 1983. Image courtesy of the collection of C.A. Weide. http://ca-yd.com"]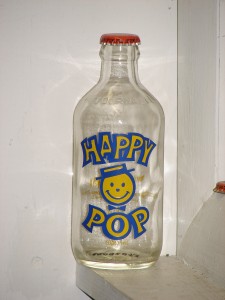 [/caption]
Happy Pop was a huge part of my childhood. Like many others in the Edmonton area, my family would go and pick up a crate of the brightly colored sodas every month or so.
The odd thing about cultural artifacts from the 80's: you can't find them on the internet! Search "Happy Pop" in Google Images and you'll get pictures of Lanvin purses; but no shots of a Happy Pop soda bottle.
I'd searched everywhere; until one day I found Chris Weides' website.  Chris, who is from the USA, has a huge collection of pop bottles.  I saw that he had a Happy Pop bottle in his collection and asked him if he could send it to me.
So here they are, the only photos I could find of Happy Pop on the internet!
Update: I just found a copy of the Happy Pop logo on Canada's Trademark Database.
[gallery link="file" columns="2"]